Benchtop Alkaline Water Purifier
Your Home from Water Contaminants!
This water purifier restores your tap water to a clean, great-tasting, mineralized and alkalized state, using the power of gravity alone – no chemicals, artificial materials, water pressure or electricity.
No more bottled water!
Advanced  8 Stage Water Filtration
Benchtop Alkaline Water Purifier Has the Highest Level of Filtration for Pennies a Glass!
8 Stage Ceramic Carbon 20L Water Filter Container Bench Top Dispenser Purifier
Awesome Water Filters Benchtop Alkaline Water Purifier is a healthy and balanced, appealing, bench top, domestic water filter system, suitable for residence and the workplace, that keeps awesome FANTASTIC sampling drinking water at an economical rate, currently offered in various sizes to suit tiny to huge home/office.
This Purifier  Are Great With Famous class leading 8 Stage KDF Water Filter
Stages Explained
Primary Filter Felt Pads – acts like a silt pad removing rust and sediment particles suspended in the tap water.
KDF – Assists the next stage (activated carbon) to remove chlorine, organic matter & heavy metals such as lead, cadmium, mercury & arsenic.
Activated Carbon – Removes chlorine, THMs, natural chemicals,organic sediment as well as the bad smells & taste odour associated with chlorine used in town water, the end results are pure crystal clear mineral water.
Mineralised Balls – These natural minerals derived from natural clay's add back valuable minerals to the body.  More over, examples of these minerals are iron, zinc, lithium, magnesium, potassium & iodine.
Mineral Coralite Balls – Slow release minerals mostly calcium is released into the water over time.
Activated Carbon – An additional but finer granular layer of activated carbon.
Mineralised Balls – Finer grade of stage 4 above.
Ceramic Plate – Final stage of filtration that has the potential to remove some forms of bacteria.  Mineral rock is mined in between 330 and also 600 meters below sea levels on uncontaminated sources. The mineral stone consists of Germanium which promotes wellness and stops cancer. Germanium likewise soaks up heavy metal, toxic substances, smells, and also pollutants. The mineral stones continuously add greater than 20 kinds of ionized minerals for many years, slowly depleting in dimension. The extremely permeable mineral rock aid in the oxygenation of water and also in the change of the water to a moderate alkaline state of 8.4ph.
Micro-plastics Filtration Information
94% of tap water in Australia contains microplastics. This includes a 0.5-micron filtration media that will eliminate microplastics in your tap water.
It acts like a ceramic water filter that are effective at removing bacteria and the larger protozoans, but not at removing the viruses. That's where thie 8 stage filter shines!
Comparison of other types of filtration equipment:
Don't forget to also add your magnesium prill beads in your mineral water filter for best results.
For pure water that hydrates, refreshes and revives your body use Magnesium Prill Beads in your water cooler or water dispenser. In addition, with all the chemicals and additives put into our town water today, it is a wise move to add magnesium prill beads to the bottom of your drinking water filters.

To remove 97% Fluoride, this ceramic top water filter dome will do it. Similarly, just add it as an extra when purchasing.
For 97% fluoride reduction you can add this ceramic dome.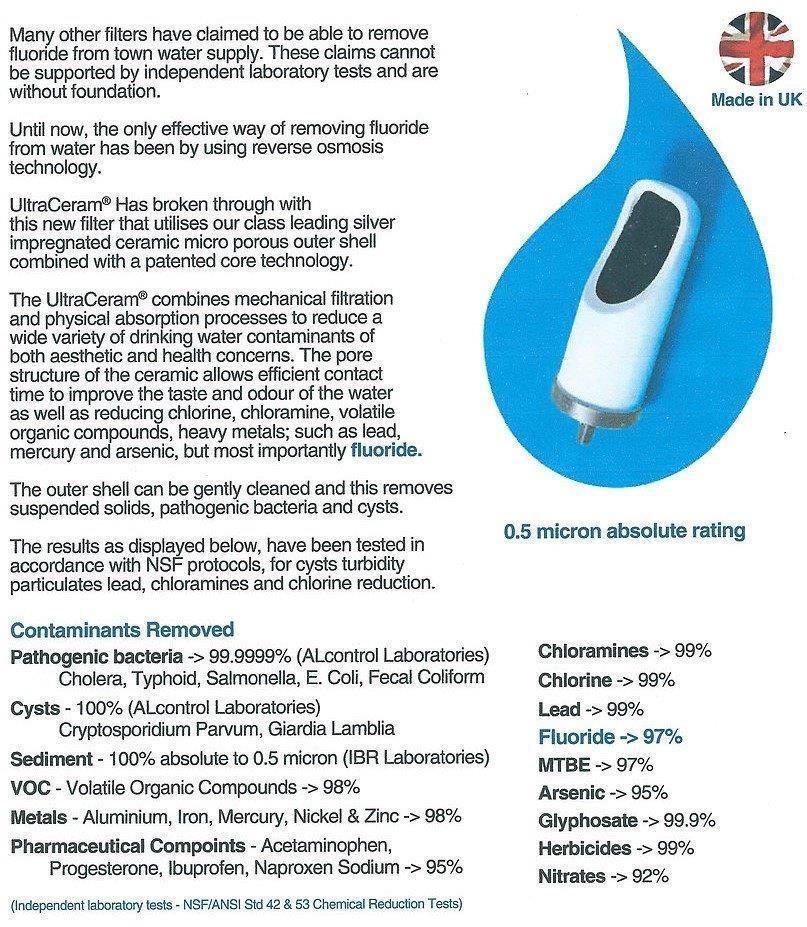 Benchtop Alkaline Water Purifier
Container ability: 20lt or 16lt.
Decreases chlorine
Softens water
Exceptional for cooking.
Great for coffee, tea, and also juices.
Conserve cash refilling your sporting activities containers!
Great for the office, school/college or vacation home.
Space-saver easily fits on kitchen counter tops.
Space-saver stand available.
Eco friendly.
Easy to use, simply put tap water right into top and gravity will do its part!
Simple style blends into any type of design!
Utilizes no chemicals, only all-natural materials, as well as minerals.
Made of long lasting, BPA FREE plastic.
A cost-effective means to detoxify your water.
Easy to clean up.
Grab one now!